MULTISTAGE PUMP HORIZONTAL HS SERIES
Description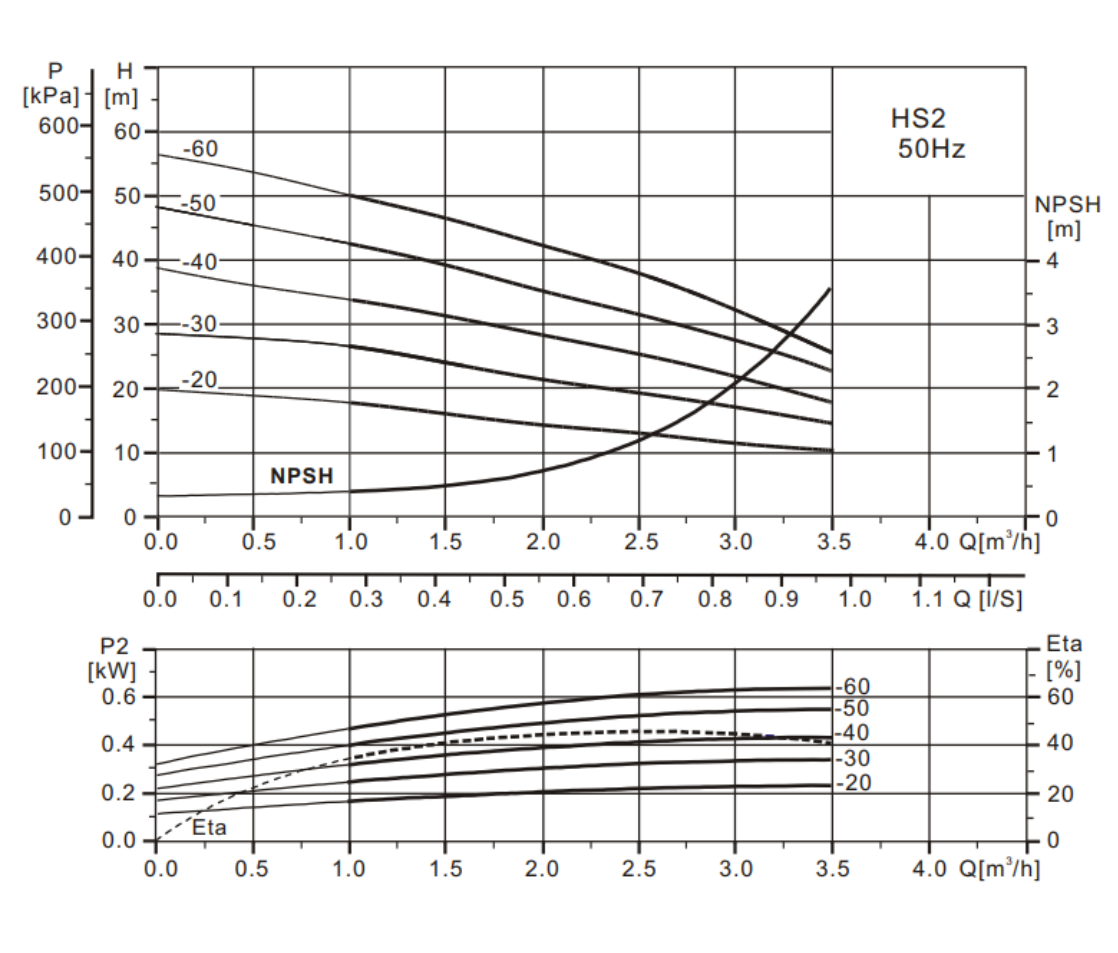 Application
HS series are mini horizontal centrifugal pumps, that have a wide application in domestic water supply industry and constructions. They are used for:
Air-conditioning system
Cooling system
Industrial cleaning conveyance and circulation of liquid.
Water treatment (Water purification)
Domestic water supply
Boosting environment
Many other special using.
Technical
Diluted, clean, non-flammable, and non-explosive liquid without solid grain or fibers.
Liquid temperature :
low temperature: -20 ~ +15 ;
standard model:+15 ~70 ;
high temperature:+70 ~104 .;
Max. environmental temperature: 50
Max. operating pressure: 10 bar
Max. suction pressure is limited by max.
Operating pressure
Model
Model(1″*1″)
Power
Q(m3/h)
1
1.5
2
2.5
3
3.5
HS2-20

0.37KW

H(m)

18

16

14

13

11

10

HS2-20AP
HS2-30

0.37KW

27

24

21

20

17

14

HS2-30AP
HS2-40

0.55KW

35

32

28

26

23

17

HS2-40AP
HS2-50

0.55KW

43

40

35

33

28

22

HS2-50AP
HS2-60

0.75KW

50

48

42

38

32

25

HS2-60AP
Model(1-1/4″*1″)
Power
Q(m3/h)
2
3
4
5
6
7
HS4-30

0.75KW

H(m)

27

25

22

19

15

10

HS4-30AP
HS4-40

0.75KW

36

33

30

26

20

13

HS4-30AP
HS4-50

1.0KW

44

41

38

32

26

20

HS4-50AP
HS4-60

1.1KW

53

50

45

40

33

24

HS4-60AP